Business Today Says P2P Consultants is Better at Sealing Deals than the Big Investment Banks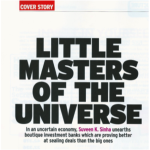 July 22, 2012 – Business Today says P2P Consultants is "a boutique investment bank that proves better at sealing deals than the big ones".
Suveen S. Sinha, Chief Editor of the leading Indian economic magazine, writes about the rise of boutique Investment Banks in India. Taking P2P Consultants as an example, he says that boutique banks are increasingly active, at the expense of bulge bracket Banks: "This bunch has subverted Tom Wolfe's vision of the bonus guzzling investment banker, which he outlined in the The Bonfire of the Vanities, calling them the Masters of the Universe. Right now, it is all about littles masters. And, often, they punch far above their weight".