P2P Consultants Advise the Sale of Atyati to Genpact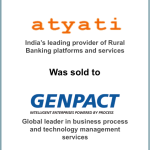 Bangalore, May 14, 2012 – With about 3 million users in 7, 300 Indian villages, atyati is the Indian success story of the Financial Inclusion sector. atyati's services meet the needs of under-banked populations in remote locations where banks cannot profitably operate. Applications include banking and payments services and management of financial flows in sectors such as Financial Services, Banking & Insurance, Public Welfare, G2C payments etc. Founded in 2006 by ex-Oracle Financial Services managers, atyati has since then demonstrated continuous growth, based on a business model that allows large-scale implementations while maintaining a light organization.Atyati's shareholders are the promoters and the Indian PE fund VenturEast. They have announced the sale of 100% of the company to Genpact, the global leader in business process and technology management. After the transaction, the promoter Prakash Prabhu and his team will continue the Indian and International development of atyati, leveraging the expertise and commercial power of Genpact.
Sellers' advisors : Financial = P2P Consultants (Francois Montrelay) – Legal = Nishit Desai & Associates. Buyer's advisors: Deloitte, PWC, AZB & Partners.